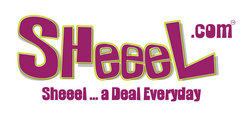 Universal Media has officially launched Sheeel.com, the Gulf region's first online marketplace to offer one incredible deal every day. Sheeel.com provides all GCC consumers with daily unbeatable deals that are available for a limited period of time. Sheeel.com amazing deals cover a variety of products ranging from Electronics, Appliances, Sports Equipment's, to Gift Ideas and much more.
Bargain hunters across the GCC can buy Sheeel.com products online and have it expressed delivered to their doorstep at amazing prices.
The new e-Store launched by Universal Media W.L.L, offers its great money saving deals across the GCC and soon to the entire MENA region. Sheeel.com aims is to give consumers a chance to grab the best deal of the day, delivered right to their door step, all from the convenience of their home and with just three simple steps: eyeball your product, be enthusiastic about the amazing price, and finally click the Sheeel button before time runs out or we sell out.
Commenting on the Launch, Ghassan Rahim, Operations Manager for Sheeel.com said, "We are really enthusiastic about launching Sheeel.com and being able to give Gulf consumers an opportunity to buy different daily deals at Irresistible prices. Sheeel.com enables people to buy quality products even while being on a tight budget."
For the latest offers visit http://www.sheeel.com
About UMedia
Universal Media (UMedia) is a specialized system integrator developing customized business solutions in the fields of RTLS, ERP, Hardware Distribution, and e-Commerce. Among its group entities are WebTech Wireless Middle East, UniSoft, Taw9eel.com, Sheeel.com and iCity. UMedia is based in Kuwait with offices in Egypt, Jordan and UAE. For more information please visit http://www.umedia.com.kw
About Sheeel.com
Based in Kuwait, Sheeel.Com is a unique e-Store that offers Consumers in the Gulf, a simple proposition: One Amazing deal a day at unbeatable prices. Sheeel … a deal everyday.
For more information:
Ahmad Al-Mazeedi,
Deputy General Manager
Universal Media WLL
+965 1 845 845
almazeedi@umedia.com.kw